What a joke.
Philadelphia Flyers forward Jake Voracek has been suspended two games for interference on New York Islanders defenseman Johnny Boychuk.
Philadelphia's Jakub Voracek will have a hearing today for Interference on NY Islanders' Johnny Boychuk.

— NHL Player Safety (@NHLPlayerSafety) March 10, 2019
Voracek threw a reverse hit on Boychuk early in the third period of Saturday night's game.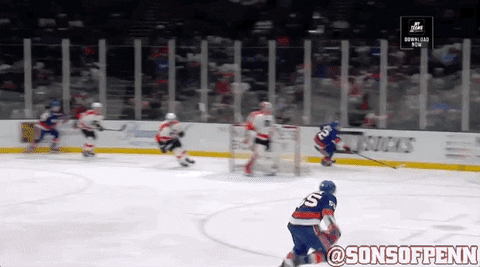 Boychuk left the game and Voracek received a five-minute major for interference.
Voracek seemed to be protecting himself as he braced for the hit. Otherwise, it looked like Boychuk was just going to run him over.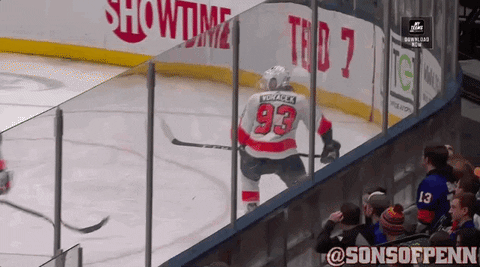 This lead to Boychuk pointing at Voracek "like it was a Wrestlemania" as he left the ice.
Voracek calls out Johnny Boychuk for pointing at him 'like it's a WrestleMania'
It seemed like they got the call right on the ice, but that wasn't the case.
Here's what we wrote prior to the announcement being made:
This could be due to the fact that since Boychuk was injured and there was contact up high, Voracek should have received a game-misconduct by rule. They could give him a one-game suspension in lieu of that.

Voracek returned to the lineup and had two primary assists in the 5-2 win against the Islanders. If Voracek is suspended, hopefully, it will only be for one game. The Flyers host the Senators (Monday) and Capitals (Thursday) this week.

Ideally, Voracek would not receive any suspension, but missing the game against the Senators wouldn't be horrible. A two-game suspension with the Flyers fighting for their playoff lives would mean they face the Capitals without Voracek yet again.
A one-game suspension would've been easier to swallow. A two-game suspension for a player with no suspension history in his 834-game career is a joke.
Yes, Voracek may have used his upper back to brace himself into Boychuk, but by no means should this be two games. Boychuk's injury may have tacked on a game, but that should have been the only game.
This is a prime example of the inconsistency of the NHL Department of Player Safety. Voracek was given a five-minute major and targeted by not only Boychuk's pointing but also Scott Mayfield, Leo Komarov and the rest of the Islanders for the remainder of the game. By this token, this was a more dangerous play than Evgeni Malkin swinging his stick like a two-by-four at Michael Raffl, or Kurtis Gabriel lining up Nolan Patrick and boarding him.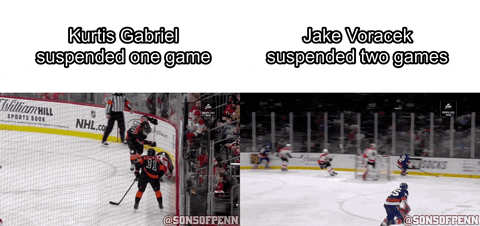 Both of the above plays received five-minute majors without game misconducts on the play.
The DoPS should focus on a player's intentions, not the result. Gabriel clearly had ill intentions when he lined up Patrick, while Voracek was protecting himself as Boychuk came skating at him. However, the results of the play: Patrick returning to the game and Boychuk leaving it with an injury, shaped the suspensions.
Voracek will miss two games at a crucial time for the Flyers. He will be out of action on Monday night against the Senators and Thursday night against the Capitals.
The Flyers currently sit five points out of a playoff spot after Saturday night's action. They host the Senators at 7 p.m. on Monday night.