Carter Hart is unreal.
The Philadelphia Flyers goalie stole another win as the Orange and Black came out on top against the Blackhawks in Chicago on Thursday night.
Hart kept the Flyers in it early with two huge stops on shorthanded chances for the Blackhawks.
He stoned David Kampf on a breakaway.
And then he stopped a great chance from the slot just seconds later.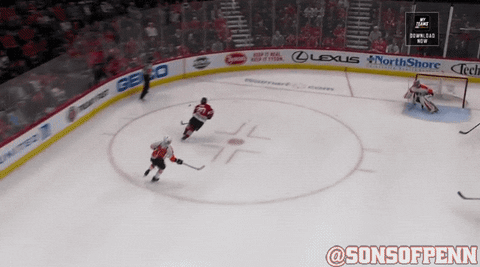 Carter Hart made 40 saves in the victory, including a perfect 27-for-27 in the final two periods as the Flyers pulled out the win.
Winning while facing a ton of shots is nothing new for Hart. He has done that several times this season, and at this point, it's almost expected.
This kid is the real deal.
Hart is a perfect 4-0-0 when he makes 40 or more saves in a game, which he has now done twice in his past three starts. To take that even further, Hart is 7-0-0 with a .958 save percentage (275 saves on 287 shots) when he makes 37 or more saves in a game. In five of those seven wins, Hart allowed just one goal.
When he sees a lot of shots, he stops a lot of shots.
Hart is 9-0-0 with 342 saves on 363 shots (.942 SV%) in games in which he faces 38 or more shots. That save percentage is still up there in games when he faces 30 to 37 shots with a .937 SV% (301 saves on 282 shots), but the Flyers' lack of offense leaves him with a 4-4-1 record in those games. Hart allowed just two goals in three of those four losses. You can't blame him there.
In total, Hart has a 13-4-1 record with a .939 SV% (624 saves on 664 shots) in games where he faces 30 or more shots. On the flip side, he has a 2-6-0 record and .844 SV% (124 saves on 147 shots) when he faces less than that. That, of course, includes the three games in which he was pulled early.
However, this isn't to say that the Flyers should want Hart to have to face more shots than he has to. When a team allows fewer shots, they should, therefore, allow fewer goals and win more hockey games. The Flyers can't rely on Hart to steal a game every night. It's nice that he can steal a game, and he has stolen quite a few, but that cannot be what a team relies on.
It's never ideal to have your goalie face a lot of shots, but it's not a problem for Carter Hart. He seems to get stronger as he makes more saves, and he's the perfect goalie to have behind a struggling defense.
Those shots against numbers should get lower as the Flyers tighten up their defense, but for now, it's great to have a goalie that basically eats hockey pucks for breakfast.